Altura Coffee staff love their Kia Sportage and Rio's
By Kia Motors New Zealand Oct 13th 2013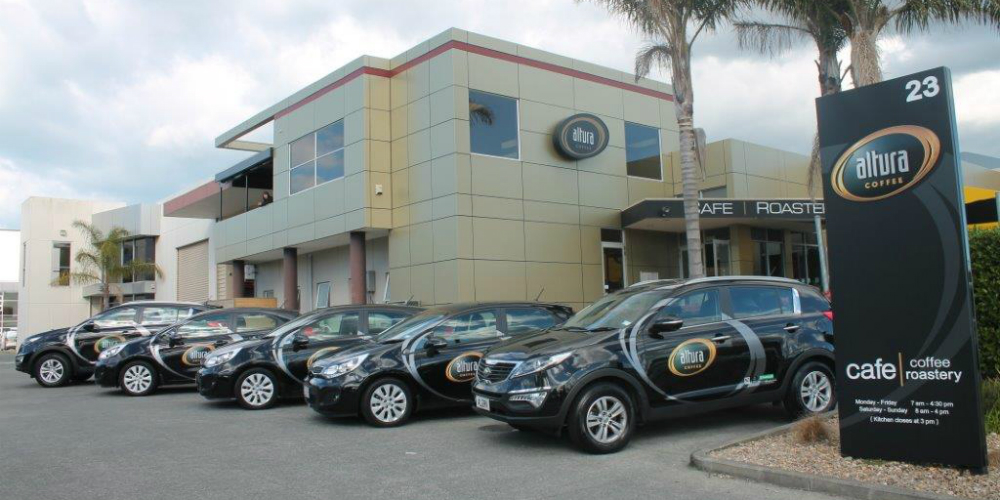 Kia fleet for Altura Coffee
We love getting customer feedback about happy customers and recently we got a letter from John Riley, General Manager of Altura Coffee.
He writes:
Altura Coffee has been a New Zealand owned and operated for the past 21 years and we have built a solid coffee brand based on honesty and integrity.
We deliver a product that ensures trust to our customers and therefore when we partner with a supplier we need to ensure they meet these same values which includes how we look and represent ourselves.
It's no secret that the car you drive in an advertising and marketing asset. Therefore the choice of the vehicle is highly important to Altura and careful review and assessment was made. We made the positive choice to select Kia as our vehicle fleet supplier.
In hospitality being noticed and looking good in important but it's also about reliability and economy and Kia just seemed to tick all the boxes.
The Altura staff love to drive their Kia Sportage and Rios and being in them all day say they enjoy the comfort and overall experience and don't come back to the office feeling tired, which is a bonus!
We test drove many vehicles and kept coming back to the Kia which overall seemed to be the best performer which also met our company requirements to: 
 - look smart and professional
- be fuel efficient
- give comfort to our staff while being spacious
- and of course carry our name with confidence. . .
oh and have to great to drive too. 
The initial experience, back up and support from our local Kia Dealership (Giltrap Kia) has been exceptional and proficient, we would highly recommend them. 
We are proud of our Kia vehicles which we feel adds value to our brand; it has been a wise decision and positive business move to align with the Kia fleet of vehicle for Altura Coffee Company.
Thanks to Alan Yates and the team at Giltrap Kia North Shore.
Kind Regards,
John Riley
General Manager