A message from our CEO
By Kia Motors New Zealand Apr 14th 2020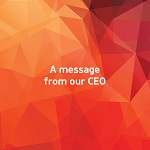 Update from Kia Motors New Zealand Ltd (KMNZ)
During these difficult times it is important to be both self-reliant and to look out for those around you in your close community. 
As the impact of the Covid-19 outbreak tightens its grip on many countries around the world, New Zealand has shown that our perseverance and community spirit is our best defence against this awful virus.
I wanted to reach out to you during this time to let you know that Kia dealers and staff in NZ are here to support you however we can. We continue to prepare (within our bubbles) to be as ready as we possibly can for a resumption to our business in New Zealand, once we are authorised to do so.
I know that the same "Kiwi spirit" that has seen us fight this virus so well will be our greatest advantage when, as a country, we start down the path to recovery.
Take care and be kind to each other.
HJ Hwang 
CEO & President 
Kia Motors New Zealand Limited 
Please click the icon above if you wish to contact Kia Motors NZ directly.