Kia Motors New Zealand supporting Halberg Foundation
By Kia Motors New Zealand Apr 12th 2019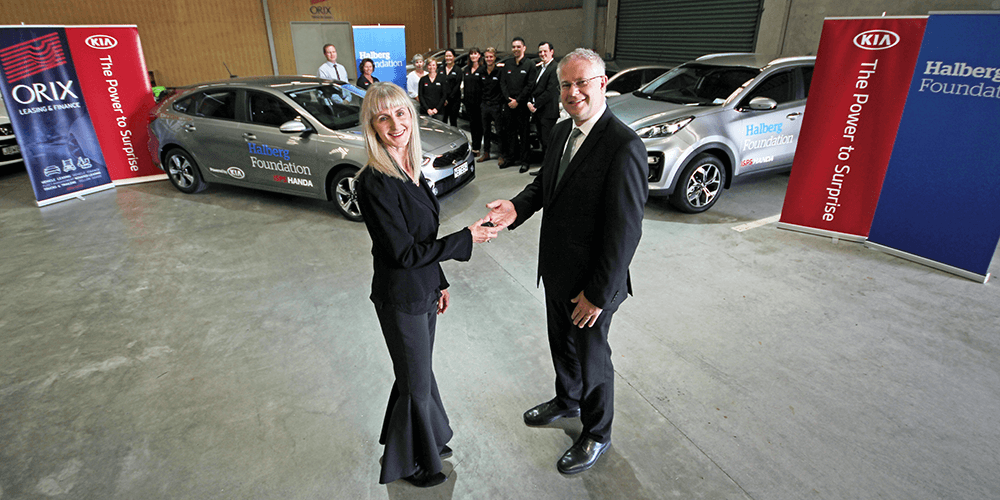 Kia Motors celebrates 10 years of supporting the Halberg Foundation
Kia Motors is celebrating 10 years supporting one of New Zealand's most recognised and respected charitable organisations, the Halberg Foundation.
The celebrations were marked, as the keys to new Kia vehicles were handed over to team members from the Halberg Foundation at the headquarters of Orix Leasing, which helped to facilitate the fleet.
Kia Motors New Zealand first became a sponsor of the Halberg Foundation in 2009 - providing vehicles to assist its important sport and recreation programmes.
The charitable organisation was founded in 1963 by Olympic legend, Sir Murray Halberg (ONZ) and aims to enhance the lives of physically disabled young New Zealanders by enabling them to participate in sport and recreation.
Halberg has a team of advisers around the country who connect physically disabled young people to sport and recreation opportunities. They also deliver an inclusion training course on adapting physical activity and assist clubs, schools and organisations to provide inclusive events and programmes.
The Halberg Games is a national three-day sports competition held annually for physically disabled and vision impaired young people, hosted by Halberg.
The annual ISPS Handa Halberg Awards also recognises the passion New Zealanders share for sport by honouring and celebrating sporting excellence and is Halberg's major fundraiser.  
Kia Motors has been a strong supporter of sportspeople in New Zealand through a variety of sponsorships over the recent years.
But it was the opportunity to contribute to a cause that also provides for many disabled young children who may not otherwise have been able to become involved in sport and leisure activities without the ongoing dedication of the team within the Halberg Foundation and their many supporters, that inspired Kia Motors NZ to become involved.
"We've been honoured to have been able to partner with the Halberg Foundation and assist them to achieve so much over the past ten years," says Kia Motors New Zealand Managing Director, Todd McDonald.

"Creating equal opportunities for everyone to participate in active lives, by connecting people with disabilities to sport, is an integral part of feeling part of the community and Kia Motors New Zealand has been proud to be involved in helping raise awareness amongst New Zealanders."
Shelley McMeeken, Chief Executive of the Halberg Foundation, says the assistance provided by Kia Motors has enabled her team to provide quality experiences and support for disabled young people wanting to be active through sport and recreation.
"The support provided by Kia is essential to Halberg reaching out and connecting to the young people, families, schools and organisations we assist, train and encourage to be inclusive.  We are grateful to Kia for the ongoing commitment and support of Halberg and our vision for an inclusive New Zealand."
The latest fleet of Kia vehicles delivered to the Halberg Foundation include 12 brand new Kia Cerato hatchbacks and a Kia Sportage.