Canon NZ going green with Kia Niro
By Kia New Zealand Apr 17th 2019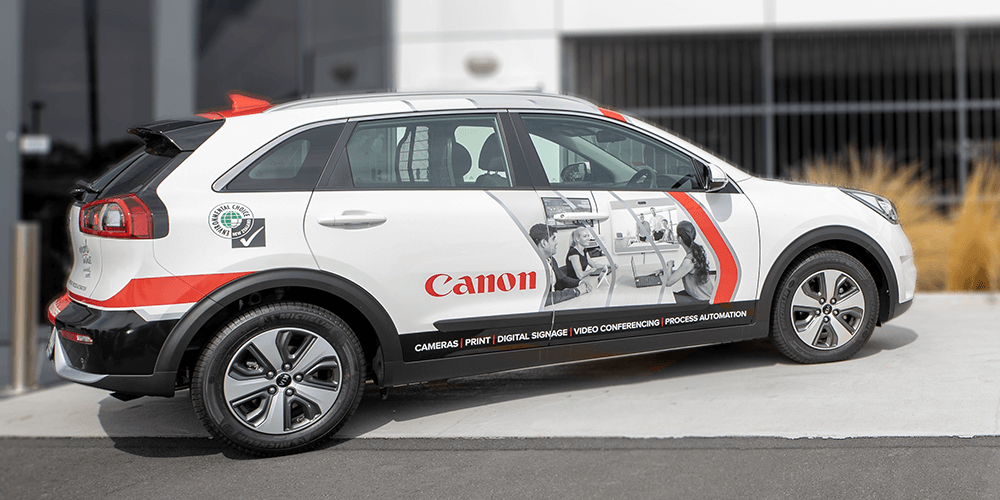 Canon NZ Selects Kia Niro Hybrid to Green Fleet
Canon NZ is making its first major foray into electrified vehicle technology with the Kia Niro hybrid as it converts to a greener fleet to help play its part in meeting their environmental obligations.
After careful evaluation of available models on the market, Canon NZ chose to go with the Kia Niro HEV (Hybrid Electric Vehicle) because it best met the commercial requirements for a modern, roomy vehicle that matched its own high technology and environmental standards.
Introduced in 2018, the Kia Niro has quickly become one of the best-selling electrified vehicles in New Zealand. It's the world's first SUV to be engineered from the ground up as a dedicated hybrid vehicle.
Niro's hybrid powertrain – made up of a 1.6-litre GDI (gasoline direct injection) engine, lithium-ion polymer battery pack, 32kW electric motor and six-speed DCT (Double Clutch Transmission) – has been developed to deliver CO₂ emissions of below 90g/km in models fitted with 16-inch wheels, which Canon NZ has chosen to go with.
Being a hybrid, the Kia Niro is able to utilise the combined effects of the petrol engine and electric motor to great effect in the pursuit of higher fuel economy, achieving 3.8L/100km (74.3mpg) in both the urban and combined cycles.
Canon is the world's leading imaging brand and the decision to select the Kia Niro to green its vehicle fleet in New Zealand supports the company's worldwide sustainability commitment.
"Globally and locally, we're continuously evaluating and improving the sustainability of everything we do, so we can use our strength to influence positive change for the planet," says Kim Conner, CEO of Canon NZ.

"Every year Canon New Zealand supports worthy community projects with our Environment Grants Program. We award grants in a range of categories to organisations that can use Canon imaging products to make their environmental project more effective.

"Each company in the Canon Global Group is measured on their contribution to reducing CO₂ emissions at every stage of the product lifecycle. Group companies are measured and ranked on their performance in relation to CO₂ emissions from production, sales, marketing, logistics and also use by our customers. Canon Oceania's commitment to the global goal is to reduce our direct GHG emissions by 1.5% every year until 2020. By transforming the way we work, our workplaces and the vehicles we drive, we've exceeded our targets to date.

"That is why the purchase of this fleet of Kia Niro hybrid vehicles is so important as they will help us to further improve our sustainability, whilst at the same time provide our team with vehicles they'll love to drive."
The fleet deal is one of the largest involving the Niro, according to Kia Motors New Zealand  Managing Director Todd McDonald, and was facilitated through the Giltrap North Shore Kia dealership in Wairau Road, Glenfield. He sees it becoming a trend, especially with the imminent arrival of the fully electric Niro model in April.
"We are very honoured to have been selected to supply the first electrified vehicles to such a highly respected technology company as Canon," says Mr McDonald.

"There is an increasing trend among businesses and individuals in New Zealand to make vehicle purchases based on environmental sustainability. They can achieve that with the Niro without having to compromise on style, drivability and practicality."