New Zealand 1, Australia 0 in service technician showdown
By Kia New Zealand May 15th 2014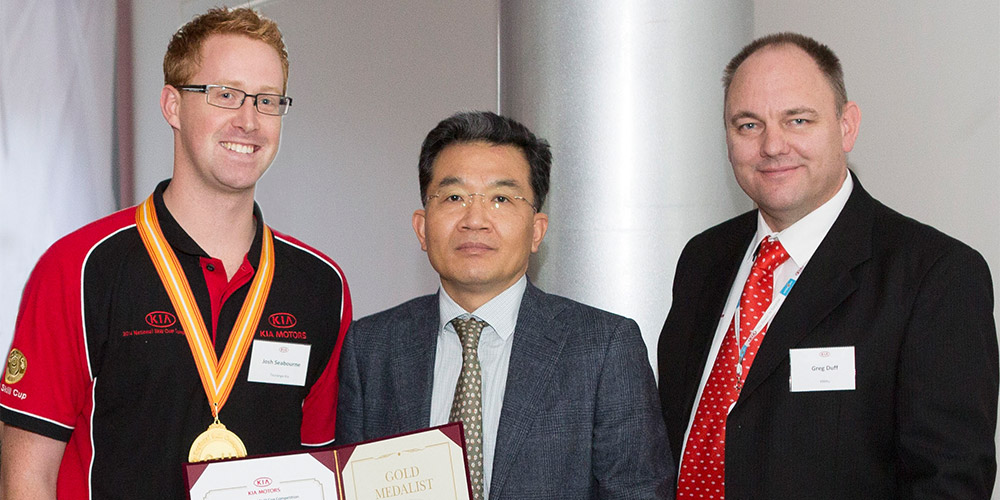 Some if not all of us know that New Zealand has the best service technicians. And now Tauranga Kia's Josh Seabourne has proved it, by winning the inaugural Australia-New Zealand Skill Cup.
The only New Zealander in the final, Josh battled five Australian contestants during an intensive one-day competition that not only tested their practical skills, but their mechanical and auto-electrical knowledge too.
"I felt quite good about the theory, having done plenty of revision and the electrical board tasks went well, but one of the engines we were working on is not one I was familiar with, as it isn't available in New Zealand, so that tested me," says Josh. "And we weren't given enough time for the engine strip-down because it is important to follow the correct procedures."
In front of one New Zealand judge and two from Australia, the six technicians were scored on process, work flow and outcomes with 100 points allotted for each assessment.
"The pressure was on the whole time and I was really surprised when I found out that I'd won – it was a great feeling," says Josh, who has been with the Tauranga Kia service department for two-and-a-half years.
The win also pleased Kia Motors New Zealand Technical Trainer Nick Robinson, who says the level of skill among service technicians within the Kia Dealer network is increasing due to the high technical training standards implemented by Kia Motors Corporation. Kia Motors NZ was recently judged to have one of the best aftersales service among Kia distributors worldwide in 2013.
Josh will now represent New Zealand at the Skill World Cup to be held in Seoul later this year.
Photo caption: From left, Tauranga Motor Company Kia technician Josh Seabourne KMAu/NZ President and CEO Mr S H Cho, alongside KMAu Technical Trainer Greg Duff.