Kia Sorento vs Holden Captiva 7 Comparison
By Kia New Zealand Oct 27th 2015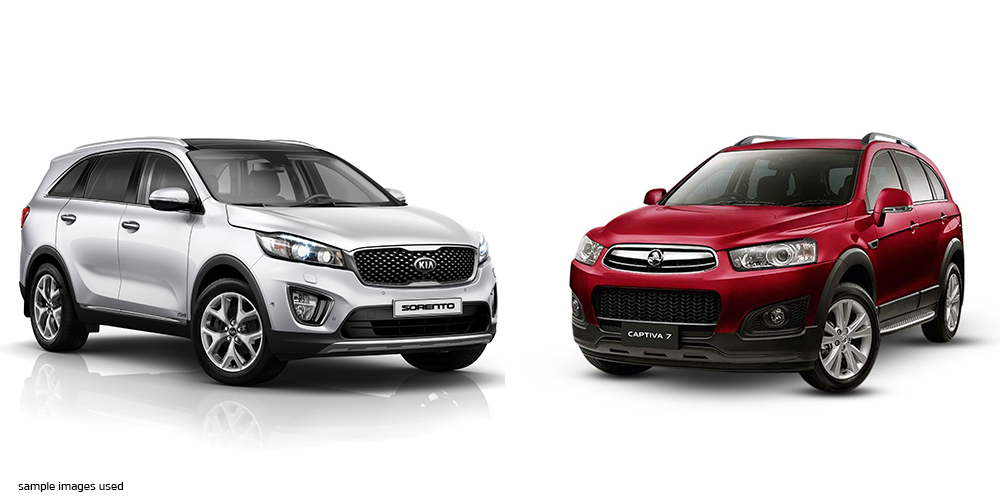 Compare Captiva 7 vs Sorento
Are you wondering "Which is the best option for me, a Sorento or Captiva 7?"
For the same money, there's actually quite a few differences, so we thought we'd put the Sorento 2.4 LX AWD up against the Captiva 7 3.0 AWD, so you can see them side by side.
What's the same
The RRP is currently the same for both vehicles, but they are very different vehicles. Both the Sorento and Captiva offer AWD, a towing capacity of 2,000kg (braked), and have the flexibility of 7 seats if required. 
What's different
A main difference between these two is the engine size, however the current generation Captiva 7 has been around for almost a decade, while the latest Sorento was released earlier this year with a brand new chassis system, meaning the Sorento has been built with the latest technology, with better handling, safety features and comfort. 
Compare the two 
 

Kia Sorento 2.4 LX Petrol AWD

Holden Captiva 7 LT 3.0 Petrol AWD

RRP

 $49,990 + ORC

 $49,990 + ORC

Engine

 2.4L DOHC CVVT Petrol

 3.0L SIDI Direct Injection V6 Petrol

Engine Power

126kW @ 6000rpm

190kW @ 6900rpm

Engine Torque

225Nm @4000rpm

288Nm @ 5800rpm

Transmission

6 Speed Automatic

6 Speed Automatic

Fuel Economy (combined)

9.9L/100km

10.1L/100km

Safety & Steering 

Active hood system (pop-up hinges)

Tyre Pressure Monitoring (individual)

Drive Mode options

Active Vehicle Hold




Exterior Features

Alloy Wheels

17"

18"

LED Daytime Running Lights

Parking Sensors

Front & Rear

Rear only

Smart Cornering Lights

Front & rear skid plates 

Interior Features

 

 

Rear seat USB charger

Rain sensing wipers 

Electrochromatic rear-view mirror

Luggage capacity (3rd row folded)

605L

465L

Warranty

 

 

Warranty Programme

5 yr/100,000km (whichever comes first) with 24hr Roadside Assist

3 yr/100,000km (whichever comes first) with 24hr Roadside Assist
Additional information
The above is not a complete list of features and there may be other variants for you to consider. The information about the Captiva 7 LT 3.0L AWD was collected by Kia Motors NZ from publicly available information on holden.co.nz between 19/10/2015 and 27/10/2015. Information has been gathered to help consumers, full specifications about either vehicle should be checked before a purchase decision is made.
Vehicle pricing and specifications are subject to change