Street custom Souls hit the road in Korea
By Kia Worldwide Aug 21st 2014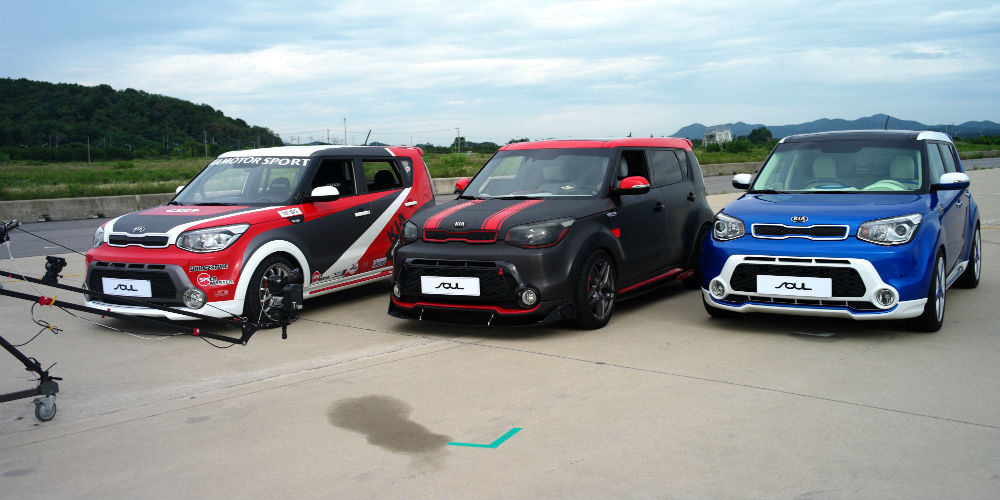 What's better than a Kia Soul? A customised Kia Soul. Some of Korea's best automotive technicians are currently competing to produce the best customised Kia Soul
 As part of the Tuning King Korea competition, three automotive technician crews, Dexcrew, Pico Sound, and Chang's Custom, have been customising the Kia Soul with specific design directions and specs in mind.
The last episode of 'Tuning King Korea' aired on August 2, marking the end of the intense competition with the reveal of the final three customised Kia Soul models. And on August 2, the three final Kia Souls were on display for the public to view at Ansan Speedway in Ansan, South Korea.
Team Pico JK2 (Pico Sound) based its Kia Soul modification on every young man's dream car—a race car that combines speed and strength. Decked out with race car trim, a racing steering wheel, race car tires, and bucket seats, Team Pico JK2's Kia Soul has enough 'vroom' to hold its own on a real-life racetrack.
Team D-Crew (Dexcrew) modified its Kia Soul, named the 'Smart Spider,' with a 'smart car' concept in mind. The Smart Spider Soul features high-quality audio speakers and even used a 3D printer to produce some parts showcased in the interior. Team D-Crew used the latest technology to keep up with tastes and needs of the youngest generation of drivers.
Team Chang Click (Chang's Custom) modified its Kia Soul to reflect its more luxurious features—inside and out—for a true 'street custom' car look. The team picked fresh colors for both the interior and exterior, decking out the Soul in clean white and electric blue tones that highlight the charms of the original Kia Soul.