Stunning Kia Imagine Concept Re-invents Electric Car
By Kia Motors New Zealand Mar 8th 2019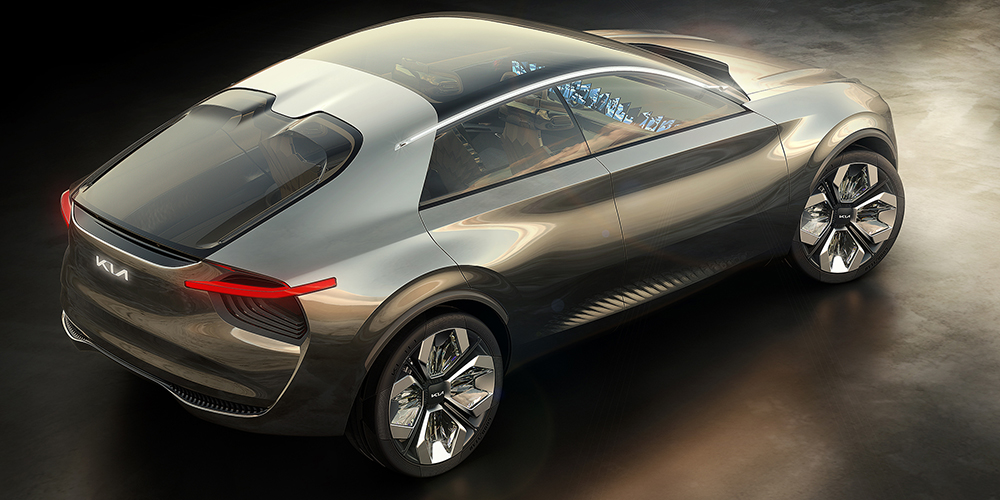 This stunning concept is how Kia Motors imagines the future of electric vehicles.

Which is very apt, since the vehicle is called Imagine by Kia and it sparked a wave of international interest when unveiled at the 2019 Geneva Motor Show.
The all-electric concept vehicle is unlike anything currently on the roads and demonstrates Kia's power to surprise in a number of ways, according to Gregory Guillaume, Vice President of Design for Kia Motors Europe.
"Kia prides itself on its power to surprise, which is why we wanted to move away from the rational and focus on the emotional and embrace a warmer and more human approach to electrification," says Guillaume.
"We imagined designing an all-electric car that not only answered consumer concerns around range, performance, recharging networks and driving dynamism, but one that also gave you goose bumps when you looked at it, and made the hairs on the back of your neck stand up when you drove it."
The sports-oriented design sits higher off the road, much like an SUV, and has a number of unique design aspects, from the combined glass windscreen and roof, to the unusual 21 LED screen displays on the dashboard. Even Kia's signature Tiger Nose grille has a fresh look, described as a Tiger Mask that encircles the main LED headlamps.
A visual embodiment of Kia's ambition for the exciting world of electrification, Imagine by Kia is the company's first pure electric four-door passenger car. Unlike the award-winning Niro EV electric SUV, which is based on the existing architecture of the hybrid-powered Niro, Imagine by Kia is underpinned by a low-mounted, induction-charged battery pack that powers a compact drivetrain.
The architecture of the powertrain is designed to maximise interior cabin space and to provide innovative storage and cargo solutions. A "frunk" or front trunk (boot) complements rear storage space that is accessible via a glass hatch. The rear side doors are hinged at the rear for easier cabin access, providing a massive opening when both doors are swung out.
Guillaume says the large C-segment EV "hints at something familiar but is something entirely new. I think of it as a category-buster, and a disruptor – it's familiar and understood but at the same time progressive and new.
"When they talk about their electric cars, many car makers promote the same rational and empirical data-driven messages as they do with their internal-combustion-engined cars, such as range, economy and performance criteria."
"After all," he says, "electricity is found within every atom, it's the energy that flows within us and around us on our planet. Harnessing its potential has propelled us forward from one innovation to the next."
Guillaume adds that Kia's approach with Imagine was to address consumer question and concerns "by approaching electrification purely from an emotional point-of-view." As a result, the concept car is more of a design study than a production prototype. In fact, beyond stating that the vehicle's powertrain will be all-electric, no specific facts and figures about it, beyond chassis architecture, were revealed.
"It's a stunning concept – another indication of the forward thinking, innovative nature that Kia has so often displayed in recent years and I'm sure we'll see elements of the design and technology appear in future Kia vehicles," says Todd McDonald, Managing Director of Kia Motors New Zealand.
In the meantime, those who want an advanced electric vehicle that has excellent range (up to 455 kilometres on a single charge) and showcases today's popular SUV design can sign up for the Kia Niro EV, which goes on sale in New Zealand soon.